MyArcadeConsole (Cabinet Edition) is a fully customizable console complete with 8" LCD monitor.
It is a "homemade" console crafted with the best components on the market today.
We use the PIMORONI Picade Kit, the best on the market: we fully assemble the Picade Kit, we add an USB extension, and we configure it to be switched on and play immediately.

The heart of the system consists of two processors: a Raspberry PI 3 that deals with game processing, and an Arduino-compatible card, with built-in stereo amplifier, which manages the joystick, buttons, and audio.
The joystick is an arcade model exactly identical to those used in old bar games, equipped with 12 fully programmable microswitch buttons.
The console is a table game of arcade cabinets that were in the bar or game halls in the 80's: equipped with an 8" LCD monitor, just connect it to the power outlet and you can play it instantly wherever you are.
The console is also equipped with a Bluetooth module (for connecting to external gamepads) and a WiFi module (for connection to the home network and then to the internet).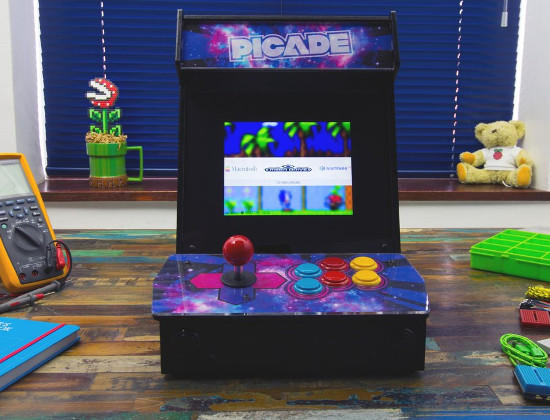 With your console, you can play thousands and thousands of games of the past, such as bar games from the 80s (Atari, DataEast, Konami, Midway, Namco, Nintendo, Taito, Williams):
Space Invaders
Asteroids
Galaxian
Lunar Lander
Battlezone
Berzerk
Centipede
Defender
Missile Command
Pac-Man
Phoenix
Rally-X
Star Castle
Tempest
Wizard of Wor
Donkey Kong
Frogger
Galaga
Gorf
Ms. Pac-Man
Qix
Scramble
Vanguard
Burgertime
Dig Dug
Joust
Donkey Kong Junior
Moon Patrol
Mr. Do!
Pole Position
Q*bert
Robotron: 2084
Time Pilot
Tron
Xevious
Zaxxon
Dragon's Lair
Elevator Action
Gyruss
Mappy
Mario Bros.
Spy Hunter
Star Wars
Tapper
Track & Field
Or even the most popular console games, such as:
Atari 2600
Atari 7800
Nintendo NES
Nintendo Game Boy
Nintendo Game Boy Color
Nintendo Game Boy Advance
Super Nintendo
Nintendo 64
Famicom Disk System
Gamegear
Game and Watch
Lynx
NeoGeo
NeoGeo Pocket
PCEngine
Supergrafx
Amstrad CPC
MSX1/2
Sega Master System
Sega Megadrive (Genesis)
Sega Cd
Sega 32X
Sega SG1000
Sony Playstation
VirtualBoy
Wonderswan
ZX Spectrum
It can also work as a Media Center with KODI and connect to your media files and streaming video from all digital and satellite channels.
The console is already mounted and ready to use, with software and emulators already configured for use.
Games ROMs should be downloaded via a network connection (via WiFi) or via a USB stick to fully customize your myArcade.
The console comes with a user manual to easily search and download games.